Macrium Site Manager

One user-friendly dashboard to manage multiple instances of Reflect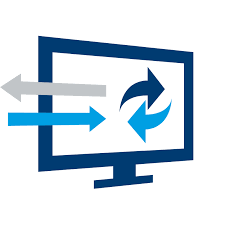 Macrium Products
Macrium Site Manager
Macrium Site Manager
#SITE-MANAGER
Get a Quote!
Overview:
Macrium Site Manager is Macrium's central management console for endpoint backup. Designed to allow IT Administrators to monitor and group PCs and Servers, define customizable backup strategies, assign schedules, set retention policies, and manage backup repositories. Best of all, it requires no specialist skills to install and configure. All of this paired with comprehensive event management, alerts, grouping, tagging, and security logging makes it easier than ever to manage backups at scale. Site Manager is accessible through a browser-based user interface.
In addition to the existing FTP and network drive repository synch available, Site Manager 8 can now sync to S3 compatible stores like Amazon, Wasabi, and Backblaze. Secure, reliable, transparent, and scalable, it's the ideal dashboard for complete peace of mind.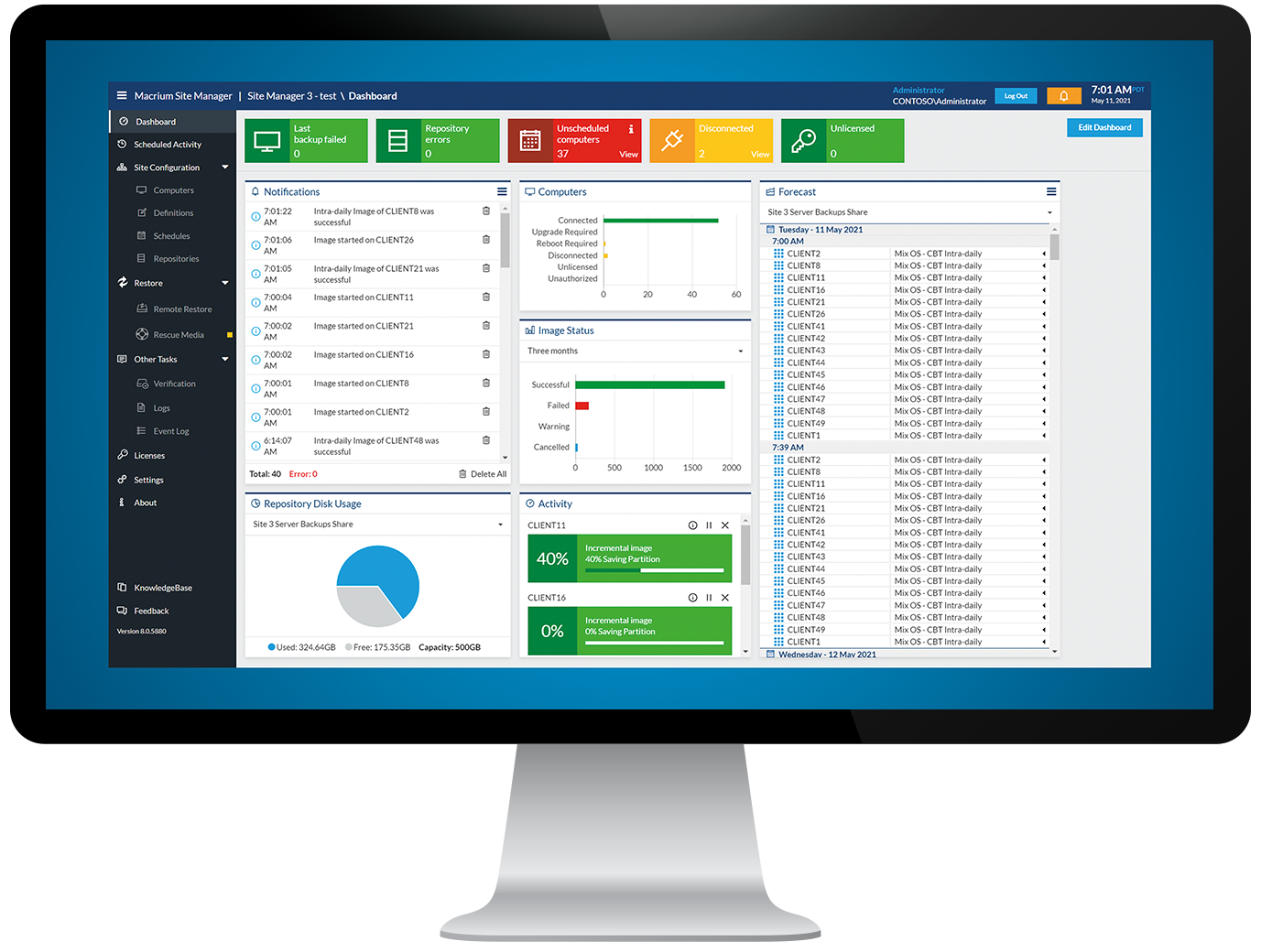 Manage multiple instances of Macrium Reflect in a single, easy to use interface
Users are now able to leverage the updated version of Macrium's powerful backup software inside a new management platform that makes security and rapid recovery at scale eve easier.
In Site Manager 8 you can:
Remote sync to cloud storage platforms, such as S3.
Centrally schedule intra-daily backups.
Restore all machines with a single USB stick with universal rescue media.
Site Manager 8 is simple, flexible, and scalable. It makes it easy to secure your data and minimize downtime for your organization or your customers.
Macrium Site Manager allows you to manage multiple instances of Macrium Reflect in a single, easy to use interface. It's free to download and use - which means you can get started immediately.
Transparency > Scalability > Security
For many businesses, using backup is only effective if it's done at scale. That's why we developed Macrium Site Manager - as a tool for managing Macrium Reflect across multiple workstations and servers, it makes it easy for IT staff to ensure data is secure and easily retrievable in the event of data loss. That means confidence and peace of mind, without additional complexity or cost.

Transparency
Use Site Manager's in-built events management features, including daily status emails and security logging, to gain transparency and confidence across your backups.

Scalability
Install and manage Macrium Agent Licenses or connect to standalone instances of Reflect to configure and schedule backup without ever having to touch target workstations.

Security and reliability
Ensure security and network reliability with Site Manager's automated scheduling and automated remote syncing capabilities.
Moving to Site Manager
If you already have a number of standalone Macrium licenses, you can start using Macrium Site Manager to more effectively manage your Macrium Reflect instances.
All you need to do is uninstall Reflect from the machines on which it is installed, and then enter the license keys for each purchase in Site Manager. Site Manager will automatically assign licenses to computers - with no additional action required.
Features:
---
Setup Pages
These pages are grouped under the 'Setup' heading in Site Manager and contain all the setup and configuration steps for Scheduling Centrally Managed Backups.
---
---
Restore
---
Other Tasks
These pages contain functions outside of setting up automated backups, restoring images or configuring Site Manager.
---
System Requirements:
The Macrium Site Manager can be installed on all Windows operating system from Windows 7 and later, 32 or 64 bit.
The Agent which runs on managed computers can be installed on any Windows operating system from Windows XP Service Pack 3 onwards.
Agent computers can be installed through the server either automatically or through manual install.
Compare:
Site Manager with deployed Agent
Standalone installations with Site Manager connection
Features
Where are the licenses managed?
Centrally
Locally
Can I deploy and update clients from Site Manager?
Yes
No
Can I centrally configure and schedule backups?
Yes
Yes
Can I monitor Reflect backups centrally?
Yes
Yes
Can I locally configure and schedule backups?
No
Yes
Will backups run if an endpoint is not connected to SM?
No
Yes (1)
Can I backup exchange/sql?
No
Yes (2)
Which license type(s) can I use?
Standalone installation license keys
Yes
Yes
Macrium Agent Licenses (MALs)
Yes
No
(1) If scheduled locally
(2) Server Plus license required. Local configuration & scheduling only
Licensing:
The Site Manager server can be installed and run with no license key or restriction on running. However, when adding computers to the Site Manager to be managed, each computer requires a license to be successfully managed. 
There are two models for licensing - a license is deployed to the client computer as part of a standalone Macrium Reflect install or licenses can be added to the Site Manager server and dynamically allocated to client computers as needed. Licenses allocated in this way are called Macrium Agent Licenses.
Standalone Licenses
If a computer to be managed already has an installation of Macrium Reflect with a valid Macrium Reflect license, this computer can be managed by Site Manager with no further licensing required. The Site Manager will automatically detect that the client computer has a valid Reflect license when it connects for the first time after the agent has been installed - no configuration is necessary. 
Managing computers with standalone Macrium Reflect licenses has the following benefits -
Ease of transition from managing computers individually to via Site Manager - no licensing changes are needed to start using Site Manager
No dependency on Site Manager server - if a computer has a standalone license, then it will be able to run and use Macrium Reflect even if it cannot contact the Site Manager server. This is especially useful for laptops and other devices which are not always connected to the LAN
Extended options for servers - Individual servers which have the Server Plus edition of Macrium Reflect can still use Reflect to conduct Exchange and SQL backups, even though these features are not included with the Macrium Agent License edition of Reflect.
Macrium Reflect 8 Home, Workstation, Server and Server Plus licenses qualify as valid licenses for Site Manager. Licenses earlier than version 8, Free Edition or any trial licenses are not valid. 
Computers using standalone keys may be reviewed on the Licenses → Standalone section. This shows all computers with standalone keys and whether they are valid for use within Site Manager: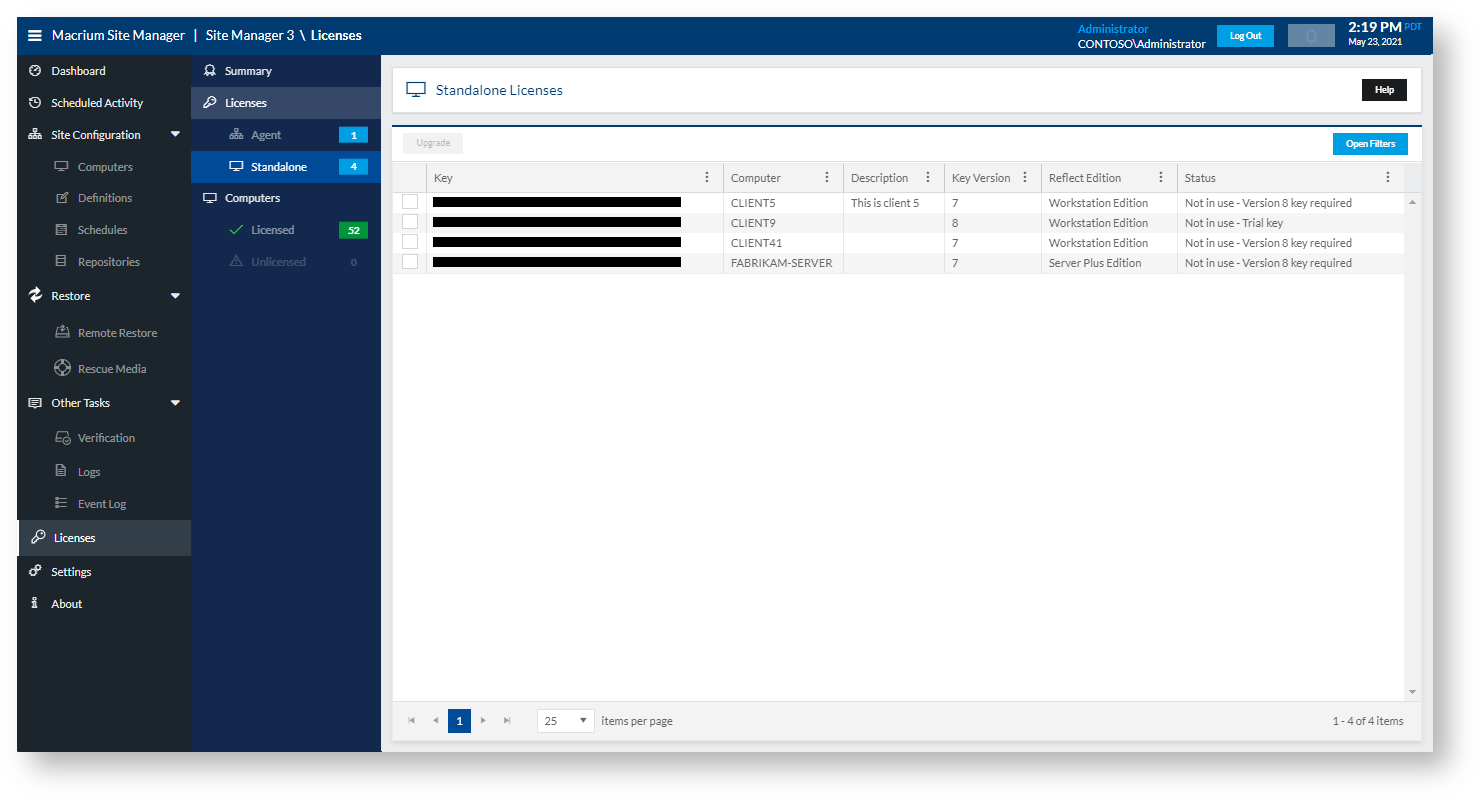 License keys can be upgraded by selecting the appropriate license and using the Upgrade button. This will check a version 7 key with Macrium license servers and if the key is eligible for upgrade, the key will be upgraded and set on the Agent computer, so that it appears in Reflect. For this function to be available, the following conditions must be met:
The computer must be running the most recent Agent version
The computer must be running at least Reflect 7.3.5854 (This version will accept the upgraded version 8 key as valid)
It must have a version 7 key
The Agent must be in the connected state
Macrium Agent Licenses
Macrium Agent Licences (MALs) are installed on the Site Manager Server and each license provides a number of seats. These seats are automatically assigned to computers as they are connected to the Site Manager server. If a computer is removed from the Site Manager server, the seat is freed for use elsewhere. This makes using MALs quick and easy to use as they require no special client configuration. Multiple seats can be managed with a single key, making key and license management easier.
The drawback of these licenses are that they are dependent on communication with a Site Manager server - if the client computer cannot contact the Site Manager server, the agent cannot be used to perform backups as a standalone edition of Reflect could.
Metered Agent Licenses
Metered licensing is available to MSPs and other Macrium partners. This provides unlimited use of Site Manager and provides regular billing on actual use counts. Site Manager reports usage counts to the Macrium license servers, which use the information to produce billing based on high watermark usage. 
Metered keys are managed as a special Agent license key with a type of Metered. Only one metered key per Site Manager is permitted and when in use, additional statistics about metered license usage is displayed on the Status page.
Pricing Notes:
Pricing and product availability subject to change without notice.
Typically the licensing is per installtion, either PC or Server, regardless of numbers of CPU's or cores.
The PC editions will not install if they detect a server OS
The Technicians Licenses are annual subscriptions and are per technician
The Home Edition does not have an annual maintenance renewal option. A new license must be purchased each year.
The VM bundles will only install into virtual machines
New licenses (and upgrades) for business buyers include Standard Maintenance and Technical Support for the first year. This includes free upgrades to new versions in the contract period
Support Essentials is for home users and excludes free upgrades to next version
Standard Technical Support is local business hours only web based support
Premium Support is 24x7 web and phone based support
Macrium Products
Macrium Site Manager
Macrium Site Manager
#SITE-MANAGER
Get a Quote!